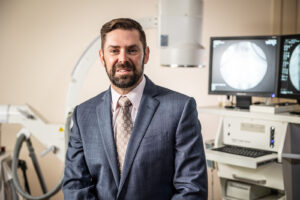 While completing his ACGME accredited Pain Management Fellowship and Residency at the nationally respected University of Texas Health Science Center of San Antonio, Dr. Stephen Dinger fell in love with the City of San Antonio and decided to commit his long term medical career to the area, and proudly calls San Antonio "home" since 2001.  Dr Dinger was very fortunate to gather invaluable experience and insight into the most advanced treatments and intervention procedures while working alongside Dr. Somayaji Ramamurthy, known as one of the founding fathers of Pain Management.
Dr. Dinger has practiced in Private Pain Management for over 13 years, and founded Advanced Pain Management and Rehab in 2012 to provide state of the art treatment and personalized care to his patients. His primary purpose to opening a Private Practice was not only to provide an opportunity for patients to receive the best & latest treatment options available, but to also be treated in an establishment which offers comprehensive pain management services in a compassionate and caring environment. It is Dr. Dinger's belief that a kind and caring environment, partnered with specialized services, improves a patients healing process and optimizes overall quality of life.
To this day, Dr. Dinger continues to engage and participate in local/national Pain Societies. He has served as both President and Vice President of the San Antonio Chapter of the Texas Pain Society, which is dedicated to providing continued education to local pain physicians and participates in various acts of community service. Dr. Dinger is affiliated with other professional organizations including: Spinal Injection Society (SIS), American Academy of Physical Medicine and Rehabilitation (AAPMR), Bexar County Medical Society (BCMS), and Texas Medical Association (TMA). Dr. Dinger actively engages in continuing medical education and workshops on the local and national level.
Dr. Dinger continues to dedicate his time and efforts to all his patients by using a multidisciplinary approach, helping to improve their overall quality of life and well being. On a personal level, Dr. Dinger enjoys remaining physically active and enjoys cycling, triathlons, kayaking, soccer, lacrosse, softball, and other outdoor activities. Dr Dinger officially added the title of "Ironman" after completing the Syracuse 70.3 Ironman event in 2017. He is a proud father of 3 amazing, talented, and beautiful children and he also enjoys coaching and developing grade school athletes, including his son and twin daughters.